I recently talked with Michelle of Kissing Bunnies Cloth. I was really interested to know about using fleece for diaper covers, etc. She makes some really cute fleece longies as well as diapers and other items in her Etsy shop. She first started using fleece as she has a wool/lanolin allergy. It works and is waterproof because it is made from polyester, the weave is so tight that it is both waterproof and breathable. The pattern she uses is from Christine Stevens, another etsy mom. Michelle says, " I really like her longie pattern because it is slim on the legs and still allows the child to wear a cloth diaper or none at all." After trying many types of diapers and doing some embroidery (so much that her machine died!), Michelle discovered fleece longies, she says they make fantastic all day pants, or overnight pants.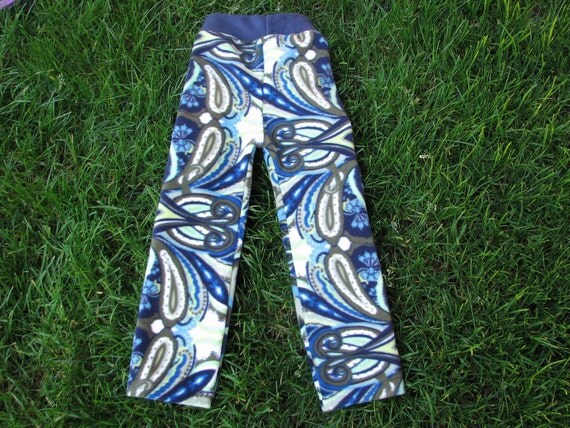 Michelle has been sewing for a long time, and started sewing diapers when her little man was about 4 months old. A back injury has kept her from doing many things that she used to, so sewing has become her way of keeping busy while staying at home with her children. I like how she puts it, "I sew almost everyday, it is kinda like my zen. Keeps me calm and rational with my back issue and my lack of movement. My body may be much quieter than it once was but my heart will just not let me stop. Got to keep busy somehow! This is my solution."
Michelle now sells exclusively on Etsy and at craft fairs. I asked her what she loves about selling her creations,
she replied, "

I love that people buy my items. I really love that people sometimes find me and come back to see what else I have made. I love being able to stay home with my little man and keep him out of daycare, and still supplement my fabric stash. "
Please check out her fleece longies, wrap diapers and all her different creations in her Etsy shop
Kissing Bunnies.